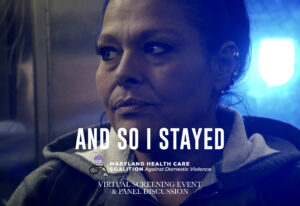 On October 14th, 20201 the Maryland Health Care Coalition Against Domestic Violence recognized Domestic Violence Awareness Month with a screening of the documentary "And So I Stayed," followed by a thought-provoking panel discussion, moderated by Tovah Kasdin, Health Care Coalition Steering Committee Member and Director of the ElderSAFE Center.
Panelists included: Deborah Knapp, Survivor and Advocate; Leigh Goodmark, JD, Marjorie Cook Professor of Law and Director of the Gender Violence Clinic; Lakeisha Keyes, Corrections Educator and Crisis Counselor of UM Capital Region Health; and Melissa Hoppmeyer, Chief of the Special Victims and Family Violence Unit of Prince George's County.
"And So I Stayed" is an award-winning documentary about survivors of abuse fighting for their lives and spending years behind bars. These women paid a steep price with long prison sentences, lost time with loved ones, and painful memories. Formerly incarcerated survivor-advocate Kim Dadou Brown, who met her wife while incarcerated, is a driving force in the passage of New York's Domestic Violence Survivors Justice Act (DVSJA), a new law meant to prevent survivors from receiving harsh prison sentences for their acts of survival. Nikki Addimando, a mother of two young children, suffered the consequences when a judge didn't follow the law's guidelines. Tanisha Davis, a single mother who was ripped away from her son in 2013, is hopeful the new law is her way out of a harsh prison sentence.